Cosmetic Dentistry
Cosmetic Dentistry in Sarasota, FL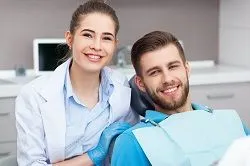 When it comes to getting a more attractive and confident smile, often it's more than just finding the right cosmetic treatment to fit your needs. You also need the right dentist; a dentist who listens to you and understands what your cosmetic goals are. Someone who is an expert in the field and who has crafted gorgeous smiles for years. If this sounds like the cosmetic dentist you're looking for, Dr. Corey Warrenbrand and the staff at Warrenbrand Complete Dentistry are here to help you get your dream smile.

Turning to Our Dental Team
We understand that when it comes to getting cosmetic dentistry, you want the best. You want a dentist that takes pride in his work and can take your needs and goals and craft the smile you've always wanted. Here at Warrenbrand Complete Dentistry, we do just that. Dr. Warrenbrand considers himself as much a dental artist as he is a cosmetic dentist, which allows him to craft stunning tailored-to-you smiles right here in Sarasota, FL.
Cosmetic Dentistry the Way You Want It
We can offer a full range of cosmetic services that can all be customized to fit our patients' unique needs. Whether you are looking to make small enhancements to your smile or you want a full-blown makeover, Dr. Warrenbrand and his team can make that possible. Thanks to continuing education, Dr. Warrenbrand offers only the latest and most advanced cosmetic treatments and techniques to his patients. Some of the most popular cosmetic options we offer include:
Teeth whitening
Dental bonding
Tooth reshaping
Gum contouring
Dental veneers
Candidates for Cosmetic Dentistry
Most healthy individuals are ideal candidates for cosmetic dentistry, which is why so many people turn to Dr. Warrenbrand to get the smiles they've always wanted. Cosmetic dentistry is a dental specialty that focuses on enhancing and improving a person's smile by changing the size, shape, color, or even the alignment of one or more teeth. It's the best way to improve flaws and imperfections in your smiles. You could benefit from cosmetic dentistry if you are looking to improve:
Discolored or stained teeth
Uneven or asymmetrical teeth
Gummy smiles
Misshapen tooth
Cracked or chipped tooth
Gapped, crooked, or misaligned smiles



If you are looking for a cosmetic dentist in Sarasota, FL, who has provided exceptional cosmetic dentistry for more than two decades then turn to Dr. Corey Warrenbrand and his compassionate team at Warrenbrand Complete Dentistry. To schedule a cosmetic consultation, call us at (941) 925-2225.