Our Team
---
Corey Warrenbrand, DMD

With 26 years of dental experience, Dr. Warrenbrand's specialty is prevention and general dental care. As part of his desire to keep current with the most advanced trends and techniques, he attends numerous continuing education courses in the fields of General and Cosmetic Dentistry.

Dr. Warrenbrand received his Doctor of Medicine in Dentistry degree from Boston University's Goldman School of Dental Medicine in Boston, Massachusetts. He earned his undergraduate degree from the University of Miami in Miami, Florida. He is an active member of the American Dental Association, Florida Dental Association, West Coast District Dental Association, and the Sarasota County Dental Association.

A graduate of the Dawson Academy, Dr. Warrenbrand has been trained in the extensive discipline of bite stability. As a result of this training, he has gained experience to really see the big picture of overall oral health and how each area of the mouth, jaw, muscles, teeth, and gums relate to each other. Oftentimes, resolving the core problem of the patient's oral health is done in order to solve their symptoms for a lifetime.
A life-long Sarasota resident, Dr. Warrenbrand resides here with his wife, Stefanie, and two daughters. He and his family are active members of the community and make time for numerous charitable causes. An avid football fan, Dr. Warrenbrand also enjoys other activities including fishing, karate, art, and spending time with family and friends.
"I received my degree in chemistry from the University of Miami and my Doctor of Medicine in Dentistry degree from Boston University. Art, however, has been a passion all my life. By using an artistic sense, I take great pride in creating your beautiful, dazzling smile!"
---
Meet Our Team
Our dental team has years of experience in the field of oral health care. We are dedicated to making sure each guest feels cared for and comfortable as they visit our dentist, Dr. Corey Warrenbrand, and to provide our patients with excellent, well-rounded service, we work harmoniously in a way that expands the unique skillset of each team member. To learn more about our commitment to patient care, call (941) 925-2225 or visit Warrenbrand Complete Dentistry soon! It would be a privilege to provide you and your loved ones with our exceptional dental care in Sarasota, Florida. We hope to hear from you soon.
Michelle, Office Manager

Michelle has been working in dentistry since 1992 when she moved to Sarasota from Pennsylvania. She began her career as a dental assistant and worked chairside for eight years. She is able to utilize her technical knowledge of dentistry to help patients feel at ease with their choices for treatment. She focuses on helping them get everything in order to receive the highest quality of care without worry. She received her dental assistant certification from St Pete school for dental assistants in 1993. She also attended Keiser college where she received a degree in Graphic Art and Design in 2003. Although she has a passion for art, she has always remained committed to dentistry. In her spare time, she enjoys spending time with her family camping, hiking, biking, and relaxing at the beach.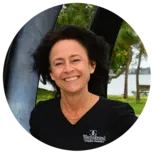 Laurel, Dental Assistant

Laurel has lived most of her life in California, where she achieved her certification from The National Education Center in San Jose. She has 20 years of experience in dentistry and has worked in oral surgery, periodontics and general dentistry. She moved to Florida in 2015 and was invited to play for Team Warrenbrand's Complete Dentistry. Laurel is a proud mother of two. In her spare time, she likes to rescue dogs, exercise, fish, camp and hike.
Justin, Registered Dental Hygienist

Justin was born in Jackson, Tennessee, and moved to Clearwater, Florida, in 1994. He attended the University of Florida for a bachelor's degree in Health Science and then St. Petersburg College for his associate in dental hygiene. He then moved to Sarasota, where he has been a hygienist since 2010. He's been with our office for over two years and has a high level of work ethic and dependability. When he's not being a hygienist, Justin keeps busy outside with biking, swimming, and going to the gym. He also enjoys gardening and relaxing at home with his Maine Coon, Kujo. He has a passion for traveling the world and wants to eventually see all seven continents!
Laura, Registered Dental Hygienist

Laura was born and raised in Bradenton. She has been in dentistry since 2010 and joined our team in 2017. She started her career as an expanded function dental assistant before graduating with an AS degree in dental hygiene at St. Petersburg College. She's also certified in anesthesia. Laura enjoys how well our team works together and describes us as "one big happy family." She excels at helping patients maintain their oral hygiene and educating them about their dental needs. When not practicing dental hygiene, Laura enjoys outdoor activities including biking, going to the beach, and spending time with her three dogs and eight nieces and nephews.
CeCe Santiago

CeCe is originally from New York and was introduced to dentistry at the age of 17. She attended The Julliard school and studied music theory. She has played the viola since age 7. She moved to Sarasota in 2021 and loves spending time with her boyfriend going to the beaches and exploring all that Sarasota has to offer.